Great Smoky Mountains National Park Maps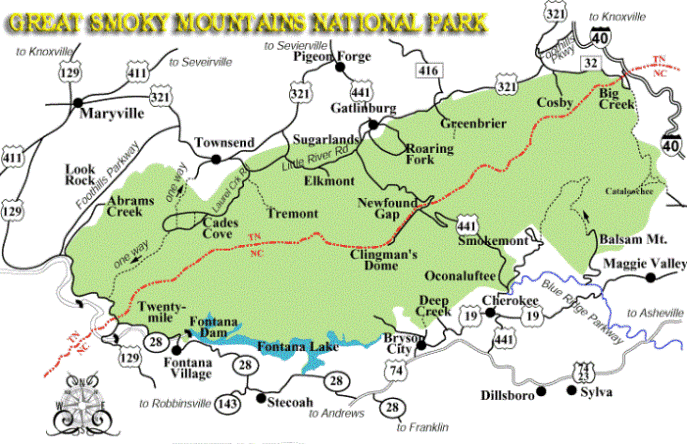 ---
Trails Illustrated Maps for Great Smoky Mountains National Park:
National Geographic has added two new Trails Illustrated Maps for Great Smoky Mountains National Park - in addition to the original map. National Geographic has divided the park into two sections, thus allowing each map to show much greater detail. The original map, which covered the entire park, has a scale 1:70,000. The two new maps now have a scale of 1:40,000 (1 inch = 0.6 miles) and provide much greater detail such as backcountry campsites, footbridges, fords/stream crossings, nature/interpretive trails, as well as detailed trail mileages.
The Cades Cove Map (map 316): Covers the western section of the park and includes the Cades Cove, Elkmont, Forney Ridge and Lake Fontana areas.
The Clingmans Dome Map (map 317): Covers the eastern section of the park and includes Clingmans Dome, Newfound Gap Road, Mt. LeConte, Deep Creek, Cataloochee, Big Creek and trails near Gatlinburg.
Of course you can still purchase the original map which includes the entire park.
You can also find other Trails Illustrated Maps for the Great Smoky Mountains region, including Cherokee National Forest, Pisgah National Forest, Nantahala National Forest and the surrounding Southern Appalachian region by clicking here.
* All Trails Illustrated Maps are waterproof and tear-resistant. Each map also includes UTM grids for use with your GPS unit.
Detailed Appalachian Trail Map:
For those that are hiking the Appalachian Trail you may want to consider the new National Geographic Topographic Map Guides. These are light-weight, small book format maps printed on rugged waterproof, tear-resistant paper. In all, there are 13 sectional maps that cover the entire length of the Appalachian Trail. The Springer Mountain to Davenport Gap section covers the entire Great Smoky Mountains National Park.

Each page includes a detailed topographic map which is centered on the trail. Along the bottom of the page is an elevation profile that shows the distance between shelters, camping areas and trail access points. The front pages of the guide includes information on water sources, camping options, resupply locations, town inset maps, key points of interest, history, safety guidelines and other pertinent information.
Interactive Map of Great Smoky Mountains
---