Curry Mountain Trail Highlights
Trail Features

---

Quiet Forest Hike

Trail Location

---

Little River Road

Roundtrip Length

---

6.4 Miles

Elevation Gain (total)

---

1164 Feet

Elevation Gain (per mile)

---

364 Feet

Trail Difficulty

---

8.73
Moderately Difficult
This moderately difficult hike is 6.4 miles roundtrip and includes 1164 feet of elevation gain.
---
Difficulty Rating (Moderately Difficult)
---
Curry Mountain Trail Description
---
Solitude - in the heart of the Smokies - is probably the best way to describe this relatively unknown, overlooked, or little used trail, located near the middle of some of the most popular destinations in Great Smoky Mountains National park.

Almost immediately the Curry Mountain Trail begins as a relatively steep climb, ascending more than 500 feet during the first eight-tenths of a mile. The trail runs above and parallel to Little River Road for the first half-mile or so. Fortunately the river drowns out most of the noise from traffic. Without summer foliage blocking the views, hikers will have sporadic glimpses into Wears Valley, as well as some of the surrounding mountains as you ascend this first section of trail.

At roughly eight-tenths of a mile the trail begins to level out for awhile. Further up the trail, at roughly 2.5 miles, the footpath makes a sharp turn to the right. Begin looking towards the east (your left) for a couple of openings through the trees that offer views of the surrounding mountains, including Sugarland Mountain and Mt. LeConte in the far off distance.

At 3.2 miles hikers will arrive at the Meigs Mountain Trail junction. A short distance from this intersection, after turning right onto the Meigs Mountain Trail, is the Meigs Mountain Cemetery. Further to the west, roughly one-half mile from the junction, is Backcountry Campsite 19.

If you have two cars in your group you'll have several options for creating a one-way hike. One option is to continue on towards the Great Smoky Mountains Institute at Tremont via the Lumber Ridge Trail. You could also take the Meigs Creek Trail to the Sinks, or you could hike eastbound along the Meigs Mountain Trail to reach Elkmont.
Curry Mountain Trail Map
Curry Mountain Trail Elevation Profile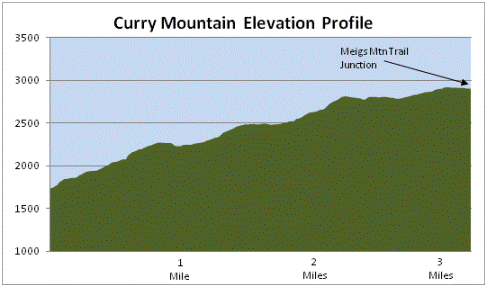 ---
Directions to Trailhead:
From the Townsend "Y" intersection near Cades Cove, drive 8.0 miles to reach the Curry Mountain Trailhead. Due to its location near a bend in the road, the park no longer allows parking at the trailhead. A sign posted at the trailhead instructs hikers to park in the Metcalf Bottoms Picnic Area. There's another small parking area on the left side of the road, roughly 100 yards past the trailhead.

From the Sugarlands Visitor Center near Gatlinburg you'll have to drive 9.3 miles to reach the Curry Mountain Trailhead.
---